Since 1993 Multicom srl has been operating as a Multimedia System Integrator and IT operator specialized in the design and installation of innovative technological systems oriented towards physical security (audio-video-GIS)
Thanks to the experience acquired over the years and the use of advanced technologies, Multicom today is one of the major leaders in design, production, and localization
Our company and procedural certification systems attest to the creation, application and maintenance of an elaborate system of management and organization of work in compliance with the law. The certifications obtained aim to guarantee the complete protection of the principles of transparency, security, confidentiality and integrity of information.
ISO 9001:2015 s the international standard for Quality Management Systems (QMS).
A QMS is a collection of policies, processes, documented procedures and records:
a set of documents that defines the internal rules that determine the way in which the Multicom company creates and supplies its products and services. Multicom crea e fornisce i propri prodotti e servizi.
To protect employees from work-related accidents and illnesses, Multicom has implemented the ISO 45001hich represents the first international standard for occupational health and safety.
The purpose of ISO 45001 certification is precisely to mitigate all the factors that can cause injuries, illnesses, or irreparable damage to employees and the company.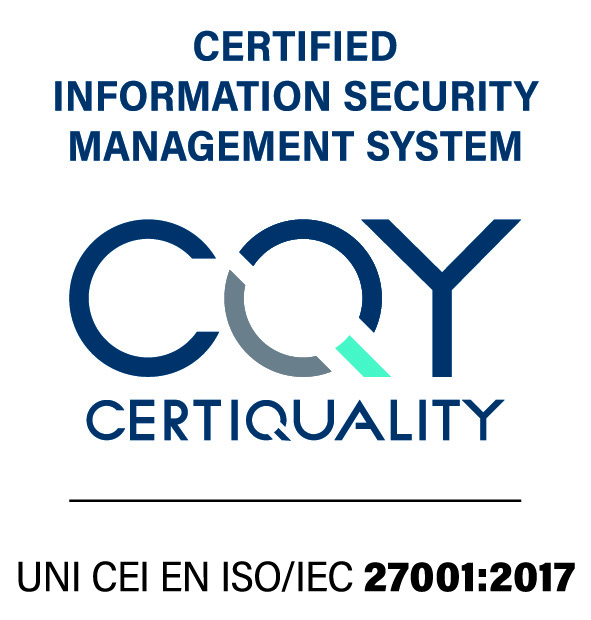 The ISO / IEC 27001 Standard (Information Technology - Security Techniques - Information Security Management Systems - Requirements) is an information security standard that defines the necessary requirements for the implementation of an Information Security Management System.
Through this system, the Multicom company can control and guarantee the protection, confidentiality, availability and integrity of the data and information it manages, also and above all for third parties.
The ISO / IEC 27001 standard includes aspects relating to logical, physical and organizational security.